Deck Heroes Cheats, Guide & Hack for Coins & Gems
Deck Heroes Specifications
Dark Heroes is a free card-battling RPG game available on both Android and iOS devices. If you download this game on iOS you must be running version 5.0 or later, and you can play on your iPhone, iPad or iPod Touch. Deck Heroes is running version 3.2.0 and it's 41.9 MB with an English-only language. If you plan on playing this game on Android, you need to be running a 2.3 Operating System or above, and the download size is 35 MB, so it takes a little bit of room on your device. Deck Heroes is currently at version 3.5 on the Android system, with the latest update being Jan. 26, 2015. You also can purchase items using the in-app purchasing option, which can run from $.99 to $99.99, depending upon how many jewels you want to purchase.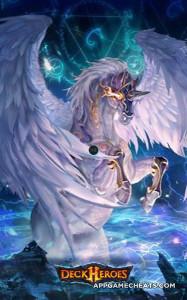 What is Deck Heroes
Deck Heroes is a card-battling RPG game where you can build various decks with different heroes and creatures. You can build up your army with different factions which include Human, Fae, Mortii, and Neander, and it's your job to save the kingdom from the evil threats that lie ahead.
When you play this game, you will notice there is a lot of variety in the gaming experience because you will come across many maps and mazes throughout the battles. Your main objective of the game is to get a really good card collection so that you can attack other monsters and creatures, which then allows you to earn gems and experience points. You can also do various quests in the game and have battles with other players through the player-vs-player option in the game. You will need to use a lot of strategy in this game because you will need to place all of your hero cards with the creature cards that have the same faction, which allows you to get an advantage when it comes to fighting. You have a lot of different achievements and daily quests you will need to unlock, which gives you experience points and also helps you move up levels in the game. One of the kind of irritating parts of the game however is that you only start out with one faction, so you have to keep playing in order to unlock the other factions. Once you progress through the game, you can change the factions, so it's not a huge deal, it just makes the game seem a little slow at first.
Deck Heroes Hack for Coins & Gems – iOS & Android
In order to build the best deck in Deck Heroes, you're going to need plenty of coins and gems or jewels.  You'll earn coins as you play Deck Heroes but gems/jewels will cost real money.  If you don't want to spend your real money on jewels, then you need the hack for Deck Heroes.
The Deck Heroes hack tool will let you add unlimited amounts of coins and gems to your account in seconds.  The hack works by connecting to the game servers and adding the resources directly to your account.  You can download the Deck Heroes hack here at AGC for free.
Once you download the hack, you'll see a menu screen like the one pictured here.  The hack is simple to use, just follow the instructions below.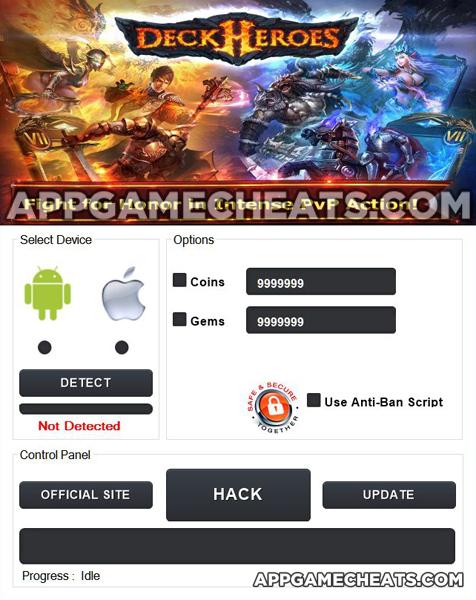 After you download the tool, it will automatically install onto your phone or tablet.  First you need to select which type of device you are using to play Deck Heroes, either iOS or Android.  Then tap the "Detect" button to link the hack to your Deck Heroes account.
Once the hack is linked, you can type in the amount of coins and gems/jewels you want to add to your account.  It is recommended that you also check the "Anti-Ban Script" box to prevent your account from being banned.  The hack is now ready to use.  Simply tap the "Hack" button to initiate the hack.
The Deck Heroes hack usually only takes about 20 seconds to complete.  You can monitor the progress at the bottom of your screen.  When it's complete, open your Deck Heroes app and you'll see that the coins and gems/jewels have been added to your account.  Now you can build the best possible deck in Deck Heroes without having to spend any money!
Deck Heroes Cheats & Tips
One of the biggest tips for playing Deck Heroes is to remember that your main objective is to save the entire world from the grips of evil, so you must enhance all of your cards so that they can level up. When you get enhancements you can use those on the three-star cards, which are some of the best cards in the deck, and they are also some of the more rare cards in the packs. You will also have one-star cards and two-star cards, but those are not that useful unless they are leveled up significantly, but that takes a lot of time and energy to do. So you always want your focus to be on enhancing the three-star cards, then begin leveling those three-star cards up as quickly as you can.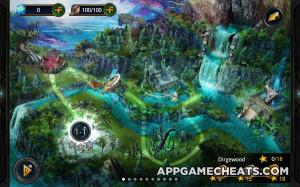 Have Powerful Cards
While you might think that if you have a lot of smaller cards you will be able to successfully win this game, that is the wrong way to go about playing. You want to make sure that you are using the most powerful cards that you can get your hands on, which also means going after the rarer cards in the game. If you have a lot of one-star cards and they are weak in strength, then you will likely not be able to beat a lot of the characters the higher up the chain you go. It will take the more powerful cards and the most rare items to do battle with some of the nasty characters you will find as you make your way through the various maps and mazes. Having powerful cards is also good because you can earn more rewards and gems by using these cards and the skills these cards have in battle. If you are going into player-vs-player mode, then you definitely don't want to have weak cards, because you don't want to seem weak and lose the battle because your entire deck is full of low-level characters.
Keep Adding Friends
This is one of the few RPG's out there that relies a lot on friendships to continue playing with full energy levels. If you add a lot of friends then you will be able to continue sending and receiving energy rapidly, which means you can keep playing and moving up in the game. The player-vs-player mode in the game is also where your friends come in handy, and having friends can really help you complete some of the quests in a much quicker fashion. One thing about having friends in the game is that you can only have as many friends as double your own experience level. This means that if you are at level 10 then you can have 20 friends. So the quicker you move up in the game, the more friends you can have, which also means the more people you can send energy and receive energy from.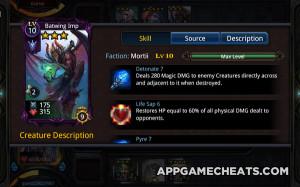 Deck Heroes Review
What I really loved about Deck Heroes is that it's one of the most fun and addicting RPG card games out there, with so much to do and a lot of ways you can levels, including the quests. I also really enjoyed the fact that there is a huge map and just a huge world out there you can explore, and you really will get lost in the environment quickly. The gameplay is very smooth and it transitions into the different parts of the game with ease, and there is no lag or any dead pixels within the maps at all. You will be blown away as far as the graphics of the game, because the cards and the characters are all in high-definition and it's crystal clear. You will not feel like you are playing an app game due to the intense and sharp graphics and the detail in the characters, along with the amazing design of the cards. This is one of those card games where you really just can sit there and explore the world and battle without having to worry about whether a glitch will happen or worry about not being able to see specific card information on the screen.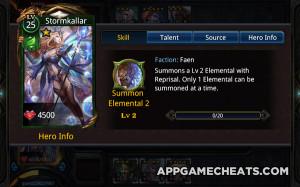 It's also a great game because you get so many great rewards and gems in the game that you don't even feel like you have to spend any real money to actually have a good deck of cards or get some of the more rare cards. You will notice that you can play the entire game and you can earn the really powerful cards just by playing and gaining experience and beating some of the harder levels. When it comes to card games, it's hard to find a game where you are not locked out past a certain point or where you have to buy the card packs to get the rare characters. This is one of those games where you want to keep playing to continue earning the experience and also unlock the other factions in the game. The rewards you get in the game are some of the best I have ever received for free, and the gems really do help you along the way.
I also think that the game, although fairly suggestive sexually and has some nudity in it, it's not one of those horrifically graphic games that will offend you or gross you out. There is a fair amount of nudity or semi-nudity but as long as you are okay with that, then there is nothing to worry about here. I found that the characters and monsters in the game also were just perfect in terms of the violence and suggestive violence, and it's just like every other RPG but a lot better. I would however say that if you have children you should definitely make sure they are at least 12 or 13 before they play this game, just because there are some semi-nude and nude pictures, so that is something you may not want your child to see.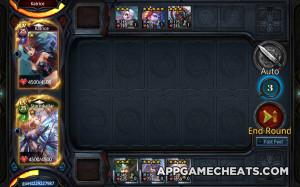 I also really enjoyed the music in the game and it just is the perfect soundtrack to keep you engaged in the game, but also not enough to distract you or to annoy you. The whole entire flow of the game and design of the soundtrack to the different parts of the game were just incredibly done. This is by far one of the best musical performances in an RPG I have listened to, and all of the notes corresponded with whether you were engaging in a player-vs-player situation or if you were fighting and evil monster. I give the entire game a 10/10 because it just overwhelms you with the intricate details of the cards and the graphics, as well as the perfectly seamless gameplay and transition to different parts of the game. If there is one card game out there that you should start out on it's this one, just because it's top of the line and you won't get frustrated with the game, and it's very easy to catch on to the objectives and goals of the game.