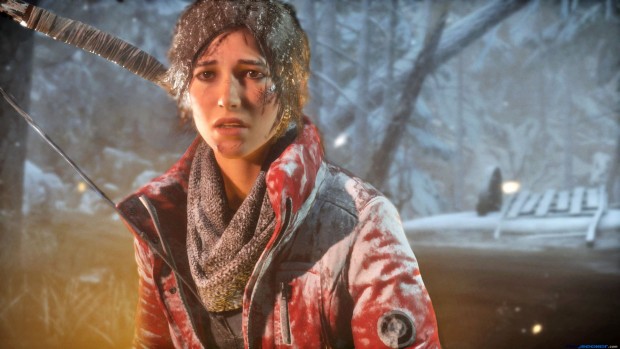 Crafting items are used to upgrade weapons, ammunition, raise weapon stats and even healing. These are found all over the world in Rise of the Tomb Raider.
For more help on Rise of the Tomb Raider, read our Unlock Outfits Guide, Weapons Locations Guide and Tomb Challenges Guide.
Rise of the Tomb Raider Crafting Materials Farming
Cloth
This is a highly useful items and help you with Specialty Arrows, Bandages, and equipment crafting. Cloth can be found in various boxes around maps in Rise of the Tomb Raider.
Farming tips: You can find Cloth of fallen enemies so search as many as you can. Also, if you see a breakable container, search it for this item.
Bear Hides
Bear skins are used in high-level crafting. However, these skins aren't easy to get.
Farming Tips: Bears are difficult to kill and early on in the game you won't have access to strong enough weapons. The best way is to mark locations of bears when you come across them and come back later to take them down.
Feathers
Feathers are used for crafting arrows.
Farming tips: Feathers are found frequently outdoors. You can look for bird nests and corpses. Some of the nests won't be easy to reach, so shoot them down with arrows or bullets. Nests are mostly found on to of building, trees.
Hardwood
Hardwood is used for crafting arrows, lighting Base Camps, Weapon Upgrades.
Farming tips: You can find plenty of Hardwood and wilderness areas with dead trees. It can also be found in developed areas in shape of piles of sticks. Visit such areas to look for Hardwood.
Hides and Exotic Hides
Hides and Exotic Hides are used for Weapon and Equipment upgrades.
Farming tips: Rabbits, deer, boar, cats, and wolves are best source of hides and exotic hides. Visit Geothermal Valley and Soviet Installation as both of these locations are great for hunting.
Mushrooms
Used to develop poison arrows.
Farming tips: The best way to get plenty of mushrooms is to visit caves and dead trees. Look at walls in caves or find them in dead logs.
Salvage
Used for weapons and upgrades.
Farming tips: Kill as many enemies as you can and search their bodies to farm Salvage. Additionally, these are found in breakable boxes.
Herbs
Herbs are used for healing.
Farming tips: Look for red bushes in the wilderness to find these items. Herbs are also found in red baskets in developed areas. Look inside small buildings and huts.
Magnesite Ore and Chromite Ore
Used for upgrades and improved ammunition.
Farming tips: Look inside caves, see for veins in walls and interact with it a few times to get Magnesite Ore. Meanwhile, Chromite gathering comes later in the game when you reach a certain codex.
Oil
Crafting explosives and other similar items.
Farming tips: Use an oil flask to gather oil from pools of oil and yellow canisters.