April might not be as eventful as the previous month which saw the release of quite a few AAA titles most notably God of War III & Final Fantasy XIII. We've compiled a list of the top 10 games releasing in the month of April, 2010.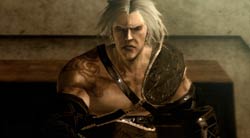 10. Final Fight: Double Impact (PSN & XBL)
The upcoming beat-em-up compilation from Capcom, Final Fight: Double Impact, developed by Proper Games, features two old school retro classics, Final Fight and Magic Sword. The game can be either played in 16:9 widescreen or classic 4:3 which frames the action in an arcade machine.
In Final Fight players take control of either of the three - Guy, Haggar or Cody and fight their way through Metro City to save Jessica(Haggar's Daughter).
Magic Sword, on the other hand, is an extension of the Final Fight theme where players who beat their way through floors of an ancient tower in a quest to take down dark lord Drokmar.
---
Release Date: April 14, 2010
---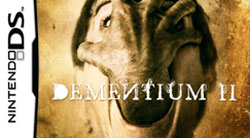 9. Dementium II (DS)
Dementium II, sequel to the first person survival horror game Dementium, brings back the ridiculous puzzles, gore and the eerie atmosphere from the first game in a totally new environment. The Save system has been fixed and more check points have been added to the sequel so that in case you die you can pick up straight from where you left off. Those looking for a survival horror game for the DS should not look any further as Dementium II is set to be one of the best survival horror game offering on the DS.

---
Release Date: April 20, 2010
---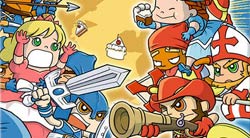 8. Fat Princess: Fistful of Cake (PSP)
Fat Princess: Fistful of Cake, brings the same humorous capture-the flag gameplay to the PSP with both local and online play. Online multiplayer lets players join either of the two teams with both teams trying to rescue their princess from the other team's outhouse. Since the main focus is on multiplayer, the single-player campaign is mainly meant to introduce players to the gameplay mechanics and rules.
---
Release Date: April 27, 2010
---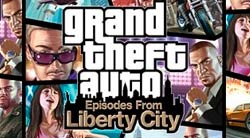 7. Grand Theft Auto IV: Episodes from Liberty City (PS3 & PC)
Grand Theft Auto: Episodes from Liberty City includes both The Lost & Damned and The Ballad of Gay Tony. The package was released last year on the Xbox 360 and will be released this month for both the PC and the PS3. Will be available as a stand alone disc which does not require the original Grand Theft Auto IV.
---
Release Date: April 13, 2010
---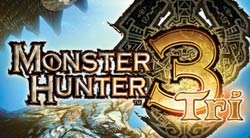 6. Monster Hunter Tri (Wii)
Monster Hunter Tri, an action RPG exclusive to the Wii, is the third installment in long running Monster Hunter series. The game was released on August 1, 2009 in Japan and has sold over a million copies in Japan, the game also earned a perfect score 40/40 from Japanese gaming Mag, Famitsu. Monster Hunter Tri is a must buy for those who appreciate Hack & Slash gameplay with role-playing elements. The game also has an online multiplayer & Coop component.
---
Release Date: April 20, 2010
---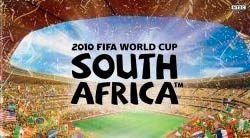 5. 2010 FIFA World Cup South Africa (PS3, Xbox 360, Wii & PSP)
With 199 countries to choose from and 10 official World Cup stadiums, 2010 FIFA World Cup is set to offer soccer fans the complete 2010 world cup experience. EA has said that there will be many gameplay enhancement over the highly rated FIFA 10. Player fatigue will be higher for matches played at higher altitudes with advantage to the team who plays at a higher altitude.
---
Release Date: April 27, 2010
---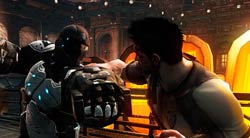 4. Dead to Rights: Retribution (PS3 & Xbox 360)
Players step into the shoes of vice cop Jack Slate, accompanied by his loyal canine: Shadow, as he lays down the lawand sets unbending rules of his ownon a hard-hitting, rapid-fire mission to clean up Grant City the hard way. Armed with a gun and hard knuckle fists players uncover a shocking conspiracy in this upcoming modern shooter from Namco Bandai Games.
---
Release Date: April 27, 2010
---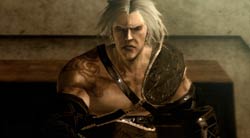 3. Nier (PS3 & Xbox 360)
Another upcoming Action RPG from Square Enix, Nier, features an old protagonist in a quest to find the cure for the Black Scrawl virus which has infected his daughter, Yonah. Three other character will accompany Nier i.e Kainé, Grimoire Weiss & No. 7. Developer Cavia have been a bit shy in revealing much of the plot but if the trailers are anything to go by this is going to be one hell-of-a game.
---
Release Date: April 27, 2010
---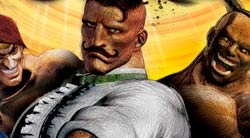 2. Super Street Fighter IV (PS3 & Xbox 360)
Super Street Fighter IV will include the full roster of characters from Street Fighter IV and another additional ten characters, which makes a total of 35 characters. In addition, Super Street Fighter IV will include new Ultra Combos and advancements in online matchmaking and gameplay. Street Fighter fans must be waiting to get familiar with the new characters and Ultra Combos as soon as the game releases.
---
Release Date: April 27, 2010
---

1. Splinter Cell: Conviction (PC & Xbox 360)
After much delay, Sam Fisher will finally be sneaking into our living rooms this month. Conviction never takes you out of the action as information & objectives are projected on walls and buildings. Sam's investigation into his daughter's murderer leads him to a deadly terrorist plot that threatens millions of lives. Would it be the MGS 4 for the 360? We'll find that out in a few days.
The PC version of the game will have Ubisoft's infamous DRM - A permanent high speed internet connection and creation of a Ubisoft account are required to play this video game at all times.
---
Release Date: April 13, 2010
(Xbox 360)
Release Date: April 27, 2010
(PC)
---