WWE 2K14 is a Professional Wrestling Video Game that was released for Xbox 360 and PlayStation 3 in Q4 of 2014. Specifically, October 29th 2013 in North America and November 1st in Europe.
Following the bankruptcy of developer and publisher THQ, the WWE license is now under Take Two and 2K.
Since acquiring the WWE license, WWE 2K14 will also be the first title to be published by 2K Sports since the assets auction following THQs bankruptcy.
It is a direct sequel to WWE 2K13 and also the first game in the new WWE 2K series. The game is being developed by Yukes and Visual Concepts.
+ Quick Jump To
Development
The team responsible for the development of WWE 2K14 is Yuke's. The team is responsible for all the previous WWE Video Games through the now dissolved developer and publisher THQ. This however will be their first time publishing a game through 2K.  At the moment, 2K is referring to the game as "the company's first release in the flagship WWE videogame franchise, WWE 2K14". Despite the transition between publishers and developers the development of the game has never been in trouble, with both Yuke's and Visual Concepts (a 2K veteran team) maintain steady updates and Press Releases.
(April 6th 2013) Professional Wrestler "The Rock" is announced to be featured on the cover of WWE 2k14.
(July 15th 2013) 2K announced that the wrestler "Ultimate Warrior" will be an available playable character for anyone that preorders a copy of WWE 2K14.
(August 1st 2013) 2K announced the "WWE 2K14 Phenom Edition". A special collector's pack that features the classic wrestler "Undertaker" on its cover. The Phenom Edition includes a tin coffin box, collectable art cards (signed by Undertaker) and the "Undertaker American Badass" playable character.
(August 12th 2013) 2K announced a brand new single player campaign experience for WWE 2K14 called "30 Years of Wrestlemania". This new game mode allows players to relive and replay moments from WWE history that are widely regarded as "the greatest moments and matches in WWE history". This will span 45 matches across five WWE eras.
Gameplay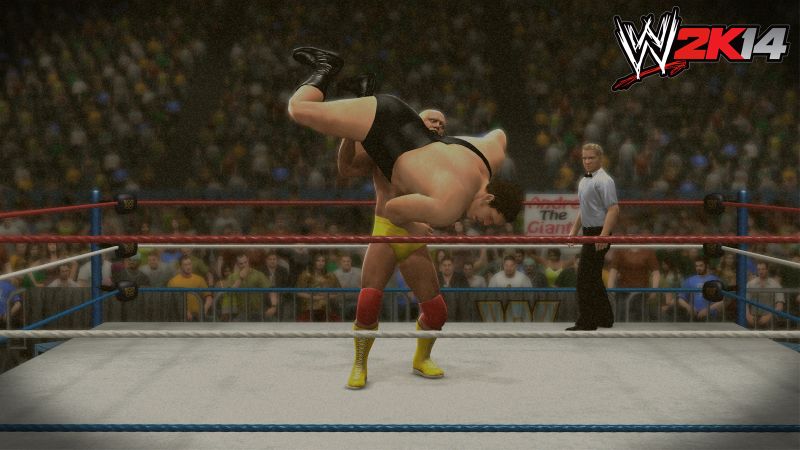 Gameplay is to remain largely unchanged from the previous instalments in the WWE franchise. At a gated event in New York City members of the press were able to spend time with a demo build of the game. While nothing major concerning the game was revealed, some of the more "notable improvements" regarding the gameplay of the title were discussed.
Navigation System:
In an effort to enhance the overall visual appeal of the game and further legitimize the WWE Video Games as a solid and finely tuned Video Game franchise, the entire system regarding player navigation has been completely retooled and redesigned. This includes the various animations that are relevant to player situations and conditions. This list of new animations includes walking, running, dragging and grapples. This allows the game to retain a more realistic look and feel.
The movement of the players' superstar has been sped up, this means individual actions are faster which results in an overall faster experience, similar to what is seen when you watch WWE on television.
Superstars now have a "starting up" animation cycle for running, as such you will build up speed rather than starting at a flat pace. This makes the match look much more natural and results in a decrease in the ability to "spam" running attacks.
Smaller, more subtle animations have been added to give a more realistic layer of depth and personality to characters. This includes adjusting wrist bands and clothing, motioning for opponents to get back on their feet amongst many other small animations which lend a human touch to the game.
Striking Changes:
Strikes and strike combos are faster and end quicker than before, this makes the attacks faster and much harder to reverse.
Hitting your opponent with a solid successful strike combo will put them into a "groggy state", this state makes "groggy grapples" appear earlier in the matches and more frequently throughout the duration.
Reversal Improvements:
Changes have been made to the system regarding reversals, a key feature of any WWE game. When the player character successfully reverses a grapple, the player superstar will now automatically execute a move of his/her own. This has been implemented in an effort to end the constant back and forth "reversal fest" some users were complaining about in WWE '13. While this solves the problem of constant grapple reversals, it also makes the match continue at a much faster pace, cutting down on the monotony of waiting for grapple animations to play out before continuing a match
Finishers:
Catching Finishers can now be executed offensively, by Irish Whipping your opponent to the ropes with a finisher stored or catapulting your opponent up when they run towards you.
Some finisher moves now give you the option to launch an opponent up into the air so that you can execute a finisher on their way back down; this expands on the once static set of finishers available to the superstars.
Special Moves:
These special moves will make it easier to get the upper hand when fighting against multiple foes, making the win that much easier to get a hold of. A few of these are :
Double Attitude Adjustment
Double Shellshock
Double Chokeslam
Some more new moves have been added to the game, these allow the player character to subject the opposing superstar to more damage than you would commonly do to your opponent by implementing more ways of using the ring environment to your advantage.
Boot-to-head on outside ringpost
DDT on the apron
TWO-COUNTS
One of the things most commonly criticized bugs in WWE '13 was the dearth of two-counts. In an attempt to combat this issue, WWE 2K14 sees the return of "dramatic near falls" that fans of the show have come to know and love.
Roster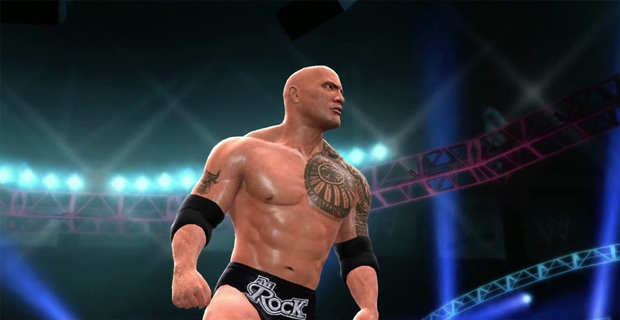 In keeping with the long running tradition of having many varied and unique stars on their revered WWE platform, the roster for WWE 2K14 is currently known to include 15 Professional Wrestlers both new and old, but the full roster is set to be revealed by Jerry Lawler, Jim Ross and Damien Sandow during WWE's SummerSlam AXXESS on August 17th. The current Professional Wrestlers that have been confirmed for WWE 2K14 are:
Andre The Giant
Dolph Ziggler
Hulk Hogan
Hollywood Hulk Hogan
JBL
John Cena
"Macho Man" Randy Savage
The Rock
The Rock (Retro)
Ryback
Shawn Michaels
"Stone Cold" Steve Austin
The Ultimate Warrior
Undertaker (Current character
Undertaker (American Badass character)