Mind Candy Limited's newest game is Moshling Rescue, which blends the match-three Candy Crush style of gaming with the popular Moshi Monsters world. As is par for the course with match-three games you have massive amounts of levels, each with their own challenges to keep in mind. Just like Candy Crush, this one can be very frustrating and very addicting, but before you delete Moshling Rescue out of frustration, stick around for some tips and tricks. Why not?
Get free lives
You can get free lives in Moshling Rescue with the old time lapse cheat. The way this works is you set the time ahead on your phone or tablet (whichever) by enough time to recover all of your lost hearts. Then when you go back to the game, all of the hearts will be recovered. If you set the time back to normal, then go back to the game, all of that energy that you just got will still be there.
Log in on Facebook, too, to get bonus lives by asking your friends for some. If you don't have any friends who play the game, find people who do (check out the comments here, the App Store review page or Facebook pages for Moshling Rescue) and add them, or get them to add you. Or buy them with jelly beans.
Your favorite characters
Each stage that you beat will allow you to unlock some new Moshlings to add to your collection. Go back and view them whenever you please, not only to see their individual profiles but to see how many you need to complete the current collection. Plus, completing the collection will earn you jelly beans.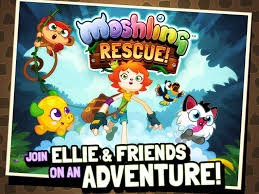 Tips on beating tough stages
Want to have an edge against tougher stages? Save your power ups that you earn during the tutorial – hit the "retry" or the "back to map" button to restart the stage without being forced to use your power ups. Save them for the stages later on where you really need them.
Try to get as many special pieces as possible by making combos of 4 pieces or 5 pieces. The L-shaped 5 piece combo will earn you a bomb piece that blows up 3×3, while the four piece combo will earn you one that clears one line horizontally or vertically. A straight-line 5 piece combo will earn you a wild card that blows up all pieces of a certain color.
Blend two line-clearing pieces to clear one horizontal and vertical line. Blend two bomb pieces to blow up a 5×5 area. Blend a line clearer and a bomb piece to blow up one horizontal 3-wide line and one vertical 3-wide line. Blend a bomb or a line clearer with a wild card piece to turn all pieces of one color into either a bomb or a line clearer. And finally, blend two wild cards to blow up every single tile on the screen.