Did you miss out on our recent Dragomon Hunter Beta key giveaway? Never fear, we have something even better for you guys today! How would you like an exclusive gift pack for Dragomon Hunter?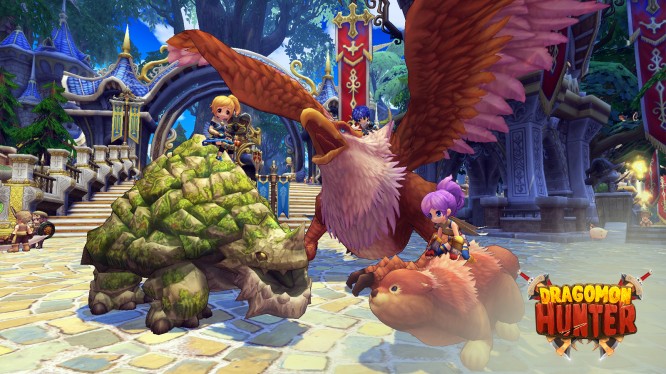 MMOGames has partnered with Aeria Games to bring you this amazing giveaway pack which you cannot get anywhere else! This will go with you into the the Betas (yes it grants you access) and the live game. It contains:
1x Chubby Sheep – This tame sheep has a coat of candy-floss like wool. Archivable. SPD +50%
1x Bitty Clamcrack Otter's Whistle – Calls a minion to accompany you.
1x 5-Slot Backpack (Bound) – Place in your backpack or your bank to increase capacity by five slots.
10x 1-Star Evolution Gem (Bound) – Use this item to evolve gear with no stars. Evolution won't fail. Evolve gear to a maximum of 1 star. Right-click to find a Master Craftsman automatically. The evolved item will be bound to your account.
1x Megaphone – Use to broadcast a message to all players on the same server. One Megaphone is consumed per use.
All you need to do to be entered in for one of 5 chances to win this awesome pack is get creative for us in the comments below:
Let your imagination run wild! Write us a short Dragomon-themed story (must be small enough to fit in the comments), a poem, a song.. Maybe describe your ideal Dragomon. We want you to get creative!
Please keep it clean! As an added bonus, we will be handing out codes to the Closed Beta Thursday afternoon to 10 lucky participants in this giveaway. You don't need to do anything additional to win one of these keys, just take part and if you win, you will hear from us.
We will be choosing the winners Friday, October 23. If you have any questions or issues, please contact us. Otherwise, good luck!!
Update:
The winners have been chosen and emails have been sent. It was tough to pick as there really were some fantastic entries, so thank you to all for putting a little effort in! They are a lot of fun to read.
And congratulations to: reyhancs, Koukai, Beastie007, Underworld 1988, and Doodle! If you haven't already, please check your emails asap so that we can get your prize to you!