Samurai vs Zombies Defense 2 Cheats & Hack for Credits, Coins & Gems
If you are a person interested in being a samurai, hacking and slashing your way through zombies and being the best samurai in the entire world, then Samurai vs Zombies Defense 2 is just the game for you. This time-killer, zombie-slasher game is packed full with features, multiple playable samurais, tons of upgrades and specialty attacks and a lot of in-game items to keep yourself busy for a long time. The game has been developed and successfully released by game developer Glu, downloaded over five million times with a rating of 4.5 out of 5 on Google Play Store and a 4.5 star rating on iOS App Store.
You start in Samurai vs Zombies Defense 2 with a small tutorial that shows you the ropes of the game. You learn the basics such as how to move your warrior character, how to attack, use special attacks and boosters/power-ups. Your goal in this game is to hack and slash your way through waves of zombies that stand between you and the finish line. Every wave gets considerably more difficult, but no worries, there are tons of upgrades you can apply on your warrior character, and even multiple more characters you can unlock if you feel like you need a change in pace.
By completing levels and killing waves of zombies, you will earn silver coins which you can then use to purchase items in the in-game shop. These items are usually in the form of either Allies or Power-ups. Allies are NPC characters that show up and help you in your battle against the zombies, if you decide to call them. The weakest Ally you can have is called the Farmer and there are more when you progress through the game, such as Samurais and Monks. Every Ally group is also upgradable, so you can make them stronger if you are willing to spend hard earned silver coins. Power-ups are in the form of consumables, upgrades and charms, all of which will help you get a very big advantage during your gameplay in this game.
There are five playable characters in total, called by the names of Samurai, Daimyo, Sorceress, Kunoichi and Ronin. Every character has their own perks and advantages for killing zombies, some of them get unlocked once you progress a bit further through the game, but some others are only purchasable with real money. All of these characters have different upgrades you can apply to them so playing with different characters will always make the gameplay different in Samurai vs Zombies Defense 2.
There are three game modes in which you can play Samurai vs Zombies Defense 2. The first one is called the Single Player Story mode, where you need to defeat wave after wave of zombies in order to be able to save the empress from the vile demon warlord Shuten Doji. There is a Multiplayer Collections mode where you have to use the souls in your jar in order to be able to complete collections to earn great rewards. There are also daily challenges which will reward you handsomely should you decide to complete them.
There are daily rewards which you will receive by logging in to the game every single day. These rewards increase in value each and every day and come in the form of in-game currency. You can save these up and purchase items in the in-game store.
Samurai vs Zombies Defense 2 In-game store
Samurai vs Zombies Defense 2, just like many other free-to-play games, has an in-game store where you can purchase items and lots of other things. There are two types of currencies you can do this with. The first one is in the form of silver coins and are easily obtainable by simply playing the game. The second one is in the form of gold coins and is called Glu Credits, which are premium are only obtainable by purchasing them with real money.
The price for silver coins vary from $4,99 for the smallest package of 5000 silver coins up till $99,99 for the largest package of 160.000 silver coins. The price for Glu Credits vary from $4,99 for the smallest package of 100 Glu Credits up till $99,99 for the largest package of 4800 Glu Credits. You can also purchase a so called starters pack, which contains some silver coins, a few Glu Credits and several boosters and allies and only costs $0,99. There are also two characters which you can only unlock by paying real money. These characters are the Sorceress and Daimyo, and are both $49,99 each to unlock.
If you do not want to spend real money on a free-to-play game, which is of course understandable, you can always complete offers and watch advertisement videos to receive free Glu Credits. Offers usually entail that you will have to either complete surveys or download and play other games, after which you will receive a certain amount of Glu Credits. Watching advertisement videos is easier, but they only pay out one Glu Credit and an ad video can take up to thirty seconds and you cannot skip it.
Samurai vs Zombies Defense 2 Hack for Credits, Coins & Gems
If you are in the middle of playing Samurai vs Zombies Defense 2, then you probably know that you need a lot of credits, coins, and gems to get through the game and buy needed upgrades. While you can make these purchases through the app store, it costs real money, and that adds up quickly.AppGameCheats has decided to add a hack tool for Samurai vs Zombies Defense 2, which means you can get the items you need for free.
Check out the image below to see just how easy the Samurai vs Zombies Defense 2 hack tool is to use, with the options menu being where you enter the amounts of credits, coins, and gems that you want to add to your gaming account.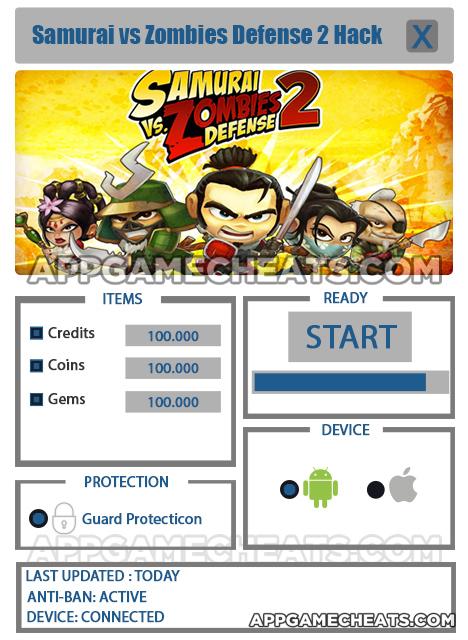 Simply download the Samurai vs Zombies Defense 2 hack tool from our website, which takes about 30 seconds, and then wait another 20 seconds while the hack automatically installs. Once that is done, simply select either iOS or Android depending on which device you are using, and then enter the amounts of credits, coins, and gems you want to add to your account.
Tap "Start" to begin the hack tool, which should take no more than 40 seconds to complete. After the hack has completed, you can open up Samurai vs Zombies Defense 2 as normal and you will find the amounts of each item are already on your account. If you use our free hack tool you will find yourself having more fun with the game since you will never need to purchase items from the app store or waste time trying to get the items through the game.
Samurai vs Zombies Defense 2 Cheats & Tips
There are many websites out on the internet that claim they have working cheat tools for Samurai vs Zombies Defense 2. The cheat tools could allegedly inject your game with unlimited Glu Credits, silver coins and even unlock all of the other characters. It sounds too good to be true because it really is, and in order to be sure I downloaded and tried out one of these cheat tools. The way the cheat websites are designed, is to make money off of people who are unknowing of the fact that the cheat tools are fake. Before you can even download the cheat tool, you need to fill in a survey, which generates an income for the cheat websites themselves.
Before I could download the alleged cheat tool, I too needed to fill in a survey. After I had done this, my download started and it was packed in a RAR folder. As you might already have figured out, the RAR folder contains nothing. I got error messages saying that the folder was corrupted and could not be unpacked. Many of these cheat websites have the same working mechanism, where they try to lure people in and earn money off of them. It could be worse though, because the RAR folder could contain a nasty virus and do serious damage to your computer, so instead of looking for cheats for Samurai vs Zombies Defense 2, I will give you some tips and tricks which you can use to have an advantage in the game.
Samurai vs Zombies Defense 2 Gameplay Tips
Like many other games, upgrading your character is really important in Samurai vs Zombies Defense 2 as well. You should always try to upgrade your characters attributes evenly and also not forget to upgrade the other characters which you unlock by playing the game. Some levels require you to use a certain character, and if you forgot to upgrade that particular character, you could be in big trouble because you won't be able to finish the level. This being said, you will need to actually play the game and level up in order to unlock many of the in-game features, items, power-ups and characters. You do this by simply playing the game in single-player mode and getting as far in the story mode as you possibly can. This also ensures that you will have saved up a lot of silver coins which you can then sure to upgrade your character and purchase a lot of other things in the in-game store.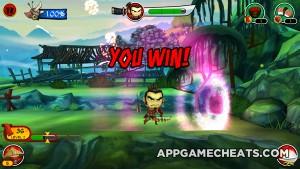 You should never stand and wait for the zombies to walk towards you, but instead walk towards them and hack-and-slash your way through them. This will ensure that you will actually have enough ground covered, and if you are forced to back up because the wave gets too difficult, then you have enough ways to do this. There are daily challenges which can reward you handsomely if you are willing to take up the challenge to complete them. These daily challenges are pretty hard at the beginning of your gameplay, and most likely impossible for you to complete early on, but they become easier, the more you upgrade your characters. You should always check back in and complete these challenges if you want an extra boost of in-game currency or other rewards such as boosters/power-ups and allies.
Samurai vs Zombies Defense 2 Review
The first thing I noticed about this game is that the graphics and soundtracks/sound effects really fit perfectly together. It was refreshing to see that there are still games out there that could do this in a seemingly perfect way. The game started off with a nicely build tutorial that showed me the ropes and taught me how to play the game properly. After the tutorial, the game becomes pretty straightforward but still very entertaining to play. There are a tons of items, upgraded and power-ups which you can use during your gameplay in Samurai vs Zombies Defense 2 and this is one of the reasons that I started liking to play the game. I like games that challenge me, and luckily this game has multiple modes to play where I could get challenged to be better than the rest. I also liked the fact that the levels and zombies got more difficult, the more you progressed through the game. This just adds another positive point to people who enjoy being challenged such as myself.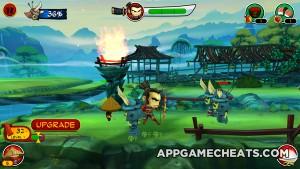 Of course I do not mind when free-to-play games have advertisements implemented in them, but the developers should make sure they implement it well. In Samurai vs Zombies Defense 2 there are pop-up advertisements that occasionally show up, but they show up exactly at the times when you are required to tap on the screen. If you accidently tap on an advertisement, your game will close down and a browser will open. This is very obstructive and annoying and the developers should really look into fixing this. They can make banner advertisements that are less obstructive to the gameplay and still keep players happy.
It is also very unfortunate to see that many in-game items are only purchasable with Glu Credits, which is the premium currency of many, if not all games developed by Glu. Obtaining Glu Credits cost a lot of real money, or of course, if you want to obtain them for free, you will need to complete offers or watch advertisement videos. This would be alright, but the offers most of the time do not even pay the players out. I have tried to complete a couple of offers myself and I wanted a couple of hours to receive my Glu Credits rewards, but they never got added to my account. The developers should try to implement another system, because it is already well known that programs where you have to complete offers are usually a scam and might or might not work at all.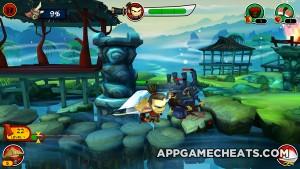 Samurai vs Zombies Defense 2 Ratings
Artwork: I give Samurai vs Zombies Defense 2 an 8/10 for its artwork. I like the fact that the game has a nice cartoonish appeal to it, making the game playable by young and old. That doesn't take away that the graphics are actually pretty nice, with tons of animations for different kinds of attacks from both your own character and your enemies. The fact that Samurai vs Zombies Defense 2 features so many in-game items and power-ups that you can use during your gameplay simply tells me that the developers spend a lot of time detailing the artwork, and made sure the idle animations and normal gameplay fits well together. The game also successfully implemented the whole Samurai/Asian theme in the levels, which is always something that is nice to see.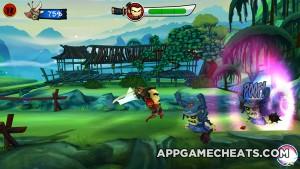 Music & SFX: I give Samurai vs Zombies Defense 2 an 8/10 for its music and SFX. The game features several soundtracks, all of which really fits the overall theme of the gameplay itself. It is nice to see that the developers were able to produce soundtracks that actually fits in the whole game instead of implementing soundtracks that are random and do not have anything to do with the era of Samurais. Next to having great soundtracks, Samurai vs Zombies Defense 2 also features a lot of sound effects which simply add a nice touch to the game and gameplay in general. Imagine if the menu buttons did not make a confirming sound, or when you slashed your sword and wouldn't hear it whoosh, wouldn't that be pretty boring?
Story & Originality: I give Samurai vs Zombies Defense 2 an 8/10 for its story and originality. While there are probably dozens of games out on the app stores, I never played a game like Samurai vs Zombies Defense 2, where you have to hack and slash your warrior character through waves of zombies in order to survive. Where the originality also kicks in is the fact that there are more than one character you can play as, all of whom you can upgrade to your likings so they are stronger and can kick more zombie ass! I also enjoy the fact that there are so many items purchasable in the in-game store, making the game even more original in my books.
General Gameplay: I give Samurai vs Zombies Defense 2 a 7/10 for general gameplay. The game has a very small at the beginning of the game where it teaches you how to move around and slash through zombies. It also shows you several things in the in-game store, how to use boosters/power-ups and how to upgrade your character. After you have played the game a couple of times, it becomes pretty straightforward, but still entertaining to play nonetheless. The controls are very responsive, the menus are clear and simple and everything fits together.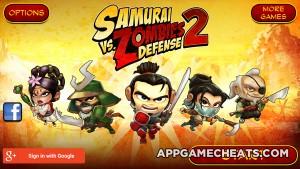 Addictiveness: I give Samurai vs Zombies Defense 2 a 7/10 for addictiveness. In my opinion, Samurai vs Zombies Defense 2 is a nice time-killer, a game which you would play when you have a few minutes to spare and just want to slash through some zombies before you have to go in a meeting or before your class starts. The reason I say this is because I could not see myself playing the game for hours in one sitting, but that doesn't mean the game isn't addictive at all. It's nice that the developers decided not to implement any sort of energy or life limits where the players only have limited play time. You can simply start the game, play however long you want.
All things considered, I give Samurai vs Zombies Defense 2 an 8/10.