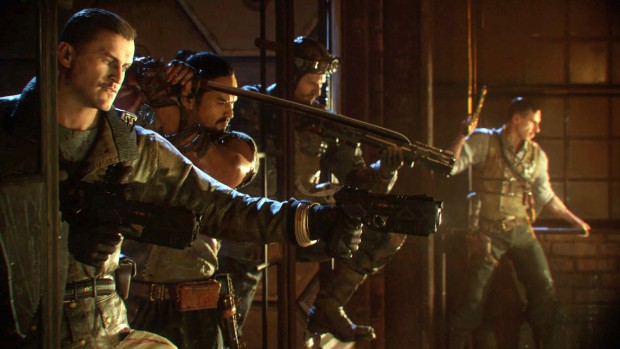 The overpowered specialist weapon, Annihilator, from the Multiplayer Mode of Black Ops 3 can also be acquired in zombie map, the Giant. It's essentially a one-shot-one-kill pistol which will certainly guarantee you some instant kills at high rounds.
For more help on Black Ops 3 Zombies, read our Shadows of Evil Easter Egg Steps, The Giant Radios Locations and Zombies Weapons Guide.
The procedure involves finding and shooting some well-hidden objects, but the end reward is totally worth the efforts. It starts off by shooting a distant object with any Pack-a-Punch weapon followed by finding and shooting three Teddy Bears scattered around the map followed by getting the weapon.
The first thing that you need to do is to turn on the main power and link all three teleporters to the main frame which will unlock the Pack-a-Punch machine.
After you've PAP your desired weapon, head to the left of the starting area towards the red bricked wall. See through the fence and shoot the bottom side of the pillars on the far side which will trigger an audio log.
The first teddy bear that you need to shoot is inside the Z-A area; inside the burnt out furnace. The second bear is located above the power, on the side of a building –- you'll have to aim through the fence. The final bear is inside the Z-B area -– you need to jump up and shoot inside the cylindrical structure on the left side.
Once you've shot all teddy bears, open up the garage area and find the Annihilator inside the burning furnace.
This is pretty much all that you need to know about getting the Annihilator in the Giant. If there is something else you would like to know, make sure to let us know in the comments section below!